Ultrasonic level meter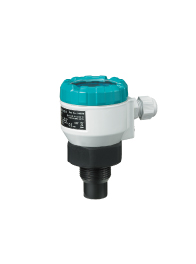 ULM series
Light weight and compact, intrinsically safe and explosion-proof
ultrasonic level meter

Since this meter is light weight and compact, it can be installed and wired easily.
This model is approved as an Intrinsically safe explosion-proof device (ATEX). This unit is used by combining a level meter housing and a proprietary relay isolator.

The display section can be separated and mounted on another unit. Is approved for CE marking.
Features, keys | Usage, examples of use examples | Standard specifications
Features, keys
Approved as intrinsically safe explosion-proof
This model is approved as an explosion-proof device under EC rules (ATEX specifications). (II1/2GExiaIIBT5Ga/Gb)
This series is also approved for CE marking.

Highly functional
Sensitivity can be set, and the teaching mode and display unit can be selected by the user. This level meter identifies faulty reflections caused by obstacles.
Easy preset
Making settings on this model is very easy, even if there is nothing in the tank to measure.
With an OLED display
You can check the measured values without opening the lid.
Usages, use examples
Detect and measure liquid levels continuously without contact.
Measure corrosive and adhesive materials.
Ex.: Monitor city water level, sewage, drain liquid, chemical agents (acids, alkalies), slurries, storage tanks, silos, etc.
Standard specifications
Level meters
Models
ULM-70Xi-02
ULM-70Xi-06
Measuring distance *1
0.15 to 2m
0.25 to 6m
Power source
18 to 30VDC
Output
Current output 4 to 20mA/DC (load resistance 270 ohms)
Ultrasonic wave frequency
120kHz
75kHz
Beam angle *2
10°
14°
Measurement precision
+-0.5%F.S.
Internal resolution
1mm
2mm
Measuring cycle
1 to 4 sec.
Allowable temperature
-30 to +60 degrees
Allowable pressure
Ambient pressure
Main
housing
Material
Aluminum alloy
Material of wave send and receive surface
PVDF
Protection level
IP67
Connections
Dimensions
G1
G1 1/2
Material
PP
Wiring cable
2 conductors (0.75mm2) *3
Weight
300g
400g
Explosion proof standard
II1/2GExiaIIBT5
Relay isolator
Models
IRU-420-I- (power source specification)
IRU-420-U- (power source specification)
Input signal
4 to 20mA
Output signal
4 to 20mA
0 to 10V
Power supply specifications
230V
60 to 230VAC, 50/60Hz, 85 to 230VDC (+10%)
24V
18 to 30VAC, 50/60Hz, 18 to 40VDC (+10%)
Power consumption
230V
7VA
24V
4W (rush current 0.8A)
Signal input voltage (terminal 5 and 6).
Typ.: 24.1VDC (0mA), min. 18VDC (20mA)
Output current (terminal 9 and 10)
4 to 20mA DC (load resistance: 750 ohm / 25mA)
Linearity
less than or equal to 0.05% (4 to 20mA)
Temperature drift
less than or equal to 0.05% / 10 dgrees
EC type test result sheet
FTZU 05 ATEX 01657X
Explosion proof standard
II(1) G[EExia]IIB/IIC, I(M2) [EExia]I
Explosion-proof
parameter
Input (terminal 6 and 7)
Ui=28V DC, Ii=93mA, Pi=0.8W, Ci≒0μF、Li≒0mH
Input (terminal 6 and 7)
IIB:Uo=27.3V、Io=93mA、Po=0.64W、Co=0.68μF、Li=8mH
Limiting voltage
Um=253V
Withstand voltage
Between power supply terminals
3.5kV
Between input and output terminals
3.5kV
Ambient operating temperature
-20 to +60 degrees
Material
Housing
Polycarbonate
Terminals
CuBe
Mounting
35mm DIN rail
Protection class
Applied IP20 / CE applied
Weight
Approx. 200g