Capacitance level meters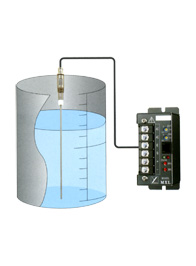 MHL-33 type
Compact capacitance liquid level meter that provides high precision and compact body. Ideal for liquid level detection in a small tank

Ideal for detecting liquid levels of small (a few liter capacity) tanks.
Washable and corrosion-proof and endures harsh conditions.

The G1 type (small installation space and ideal for very small tanks) and H2 type (can be used at high temperatures and pressure) are available.
Features, keys |Usage, use examples |Standard specifications
Features, keys
Compact design
It allows compact installations and does not occupy much space (amplifier is separate).
Can operate in harsh environments
Can be used in harsh conditions such as high and low temperatures and high pressures.
Washable and corrosion-proof
Fluorine resin is used for the electrode, for washability and corrosion proofing.
Can be made to meet special specifications
A special sensor can be manufactured to match your tank and specifications.
Usages, use examples
Level measurements in small tanks and small containers
Continuous liquid level measurement in a container of just a few liters
Standard specifications
Amplifier
| | |
| --- | --- |
| Power source required | 20 to 250 V AC/DC |
| Power consumption | 24V DCF1.5W, 100V ACF2.5VA ,200V ACF3.5VA |
| Current output | Current output 4 to 20mA/DC (load resistance 500Ω or less) |
| Measurement accu''acy | +-1% |
Sensor
Type
G1 compact pencil type
H2 coated tube type
Features
Small installation space
for very small tanks
Separate screw-in type that can be used at high temperature and pressure
Electrode material
Surface PFA
Internal electrode SUS304
Surface PFA
Internal electrode SUS316L
Connection
R1/4 *
R3/4 *
Allowable temperature
-10 to +80 degrees
-10 to +150 degrees
Allowable pressure
2.0MPa
2.0MPa
Maximum L1 dimension
1000mm
(depending on conditions)
3700mm