Micro differential pressure meters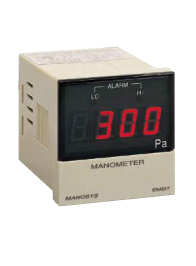 EMD7/EMD8A series
High performance and highly reliable digital micro differential pressure transmitter

Atomatic measurement and control remotely fine pressure difference is increasing, in order to monitor and maintain collectively fine pressure difference in multiple facilities. For this need, The manosys was developed as a system product to make real automatic measurement and control of file pressure differences using computer control.

A terminal connection type EMD7, a connector connection type EMD8A, are also available.

Usages, use examples
Controlling air in tall buildings and semiconductor production lines
Control facilities for environmental preservation
Clean rooms
Monitoring in-room pressure in nuclear related facilities
Assessing the clogging of filters
Standard specifications
EMD7
・UL standards and EU directive conformity
・DIN48 X 48 Panel installation type
・Alarm function mode that is suitable for use canbe set
EMD8A
・UL standards and EU directive conformity
・It is easy to install equipment by RITS connector and snap-in to panel
・DIN48 X 24 Panel installation type
・The function of sign inveting is available mesuring negative pressure (Can be displayed minus quantity)

* The product above is made by Yamamoto Electric Works Co., Ltd.