Capacitance level meters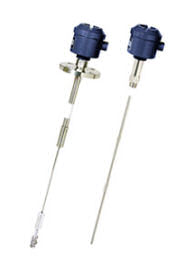 MHL series
Capacitance level meter contributes to automation, saves energy, and saves manpower in various kinds of production


Ideal for measures liquids, corrosive liquids, powders, and granules continuously. Capacitance level meters that can be used in harsh environments.
*A 24VDC power supply in integrated has obtained CE marking.
Features, keys |Videos|Adjustment function|Usage, use examples|Standard specifications
Features, keys
High precision
Thanks to the latest circuit, the unit offers high precision and high resolution and can measure a miniature change of the level.
A circuit is employed to correct liquid adhesion to the electrode.
Can operate in harsh environments
This meter can measure stably in harsh environments with high temperatures and pressures.
The sanitary specification model has a fluorine resin coating on the electrode and so it holds up to heavy washing and is corrosion-proof.
Simple to adjust
It is easy to make the initial adjustments and span adjustment, using pushbuttons.
You can adjust response speed using the delay setting function.
Free-range power supply system is employed
The switches can be used in any location in the world and can handle power from 20 to 250 volts, AC or DC.
Obtained CE marking


A 24VDC power supply in integrated has obtained CE marking.
Videos
1. This video demonstrates the actual measurement of a material interface.
2. The video demonstrates the actual measurement of powder.
Adjustment function
This unit eliminates the inconvenience of making initial settings that is necessary with ordinary models.
You can simply set the initial settings using one-touch pushbuttons.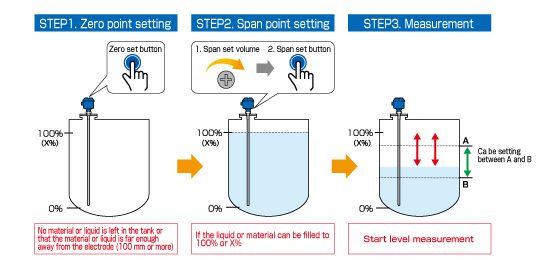 Usages, use examples
Measure liquid level, powder and granular material level in various tanks. Measure material interface of liquids.
Conductive or insulating liquids, insulating liquids with a small dielectric constant, and semi-conductive liquids.
Ex.: Various oil, various chemical solutions (acids, alkalis), various washing liquids, tap water, pure water, distilled water, alcohol, etc.
Small unit tanks, middle-sized tanks, underground pits, etc.
Food and pharmaceutical tanks, boilers, high temperature and high-pressure tanks, various chemical-agent tanks.
Standard specifications
Amplifier
Input power source
20 to 250 V AC/DC
Power consumption
24V DC:1.5W, 100V AC:2.5VA ,200V AC:3.5VA
Ambient operating temperature
-25℃〜+60℃
Current output
Current output 4 to 20mA/DC (load resistance 500Ω or less)
Measurement
accuracy
±1%
Response speed (delay)
Variable between 0.03 to 30 sec.
Protection level
IP68 (integral amplifier type) / IP20(separate amplifier type)
Paint color
Dark blue equivalent to Munsell 5PB3/8 (integral amplifier type)
Semi gloss, Munsell N3.0 (separate amplifier type)
Options
RS-485 Communications / Hand-held monitor
Sensor
Connection
Screw-in; R3/4 (can be altered to another material on request)
Flange: JIS5K25AFF (can be altered to another material on request)
Materials
Surface: PFA (can be altered to another material on request)
Interior SUS316L (can be altered to another material on request)
Allowable temperature
-10 to +150 degrees (high temperature type is also available)
Allowable pressure
2MPa (normal temperatures)