Capacitance level meters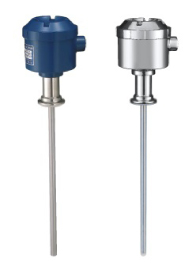 MHL-S1 type
This level switch is proprietary to sanitary process, and it provides high safety and reliability (conforms to SIP)


This level meter is designed for the level of hygiene required in the production processes of foods, pharmaceuticals, and cosmetics.
It is easily washed clean and resistant to chemical agents. It can be used in a variety of fields.

The sensor is completely covered by a PFA tube that is integral to a ferrule gasket so that there is no connecting area of multiple parts. Grooves for joints can get clogged with foreign substances. This sensor solves these problems.
Features, keys |Usage, use examples |Standard specifications
Features, keys
Can be used for SIP and CIP washing
It withstands 150 degrees, pressure up to 0.5MPa, and can be used for SIP and CIP washing.
Sanitary feature
If there are connecting areas, liquid may penetrate and remain there. Further, gloves for joint may occur clog of foreign substance. These may cause sanitary pollution and bad odors. This probe solves these problems.
Chemical resistance and material conforming with the food hygiene law
All the liquid-contact parts are coated with PFA (fluorine resin) in order to stand up to acids and alkalis. Material that complies with the food hygiene law is used for the liquid-contact parts (PFA).
Durability
Reliable waterproof casing (IP68) that can be used in various working environments.
Free-range power supply system is employed
The switches can be used in any location in the world and can handle power from 20 to 250 volts, AC or DC.
Usages, use examples
Ideal for food and pharmaceutical processes (It can also be used for other many purposes).
Continuous indication of liquid level in a tank.
Drinking water, distilled water, hot water, cold water, dairy products, edible oils, chocolate, chemical solutions, alcohol, and oil-water interfaces.
It can also measure interfaces, in addition to continuous measurement of liquid levels.

Standard specifications

Amplifier

Input power source
20 to 250 V AC/DC
Protection level
IP68 (integral amplifier type)
Power consumption
24V DCF1.5W, 100V ACF2.5VA ,200V ACF3.5VA
Current output
Current output 4 to 20mA/DC (load resistance 500Ω or less)
Measurement
accu''acy
+-1%

Sensor

Connection
IDF/ISO 1S-1.5S ferrule (can be altered on request)
Materials
Surface PFA
Internal electrode SUS316L
Allowable temperature
-10 to +150 degrees
Allowable pressure
0.5MPa